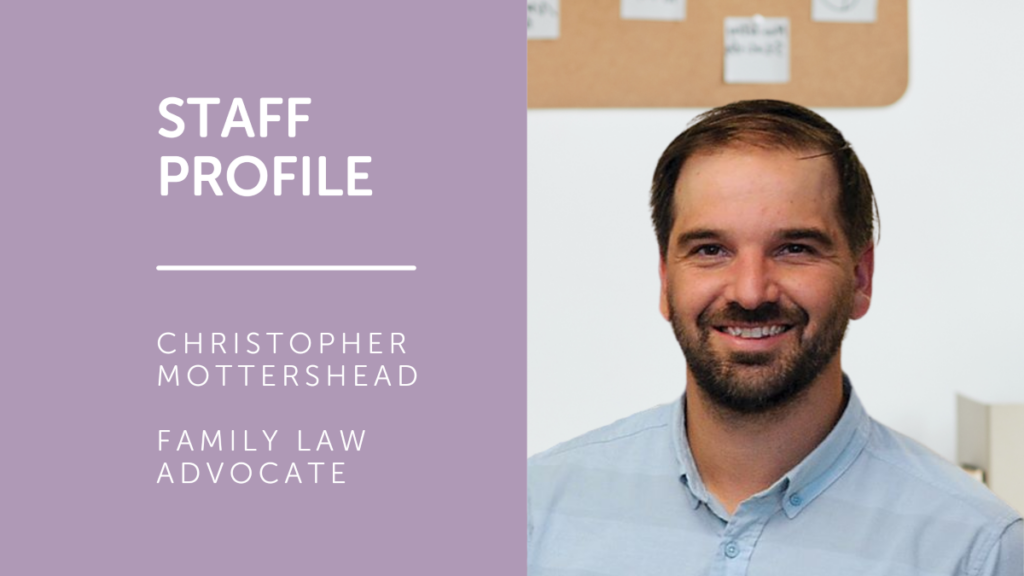 In 2022, Christopher Mottershead joined NSCR's Legal Services team as a Family Law Advocate. Keep reading to learn more about who Chris is, and how he works to strengthen the community.
What brought you to NSCR?
I'd been interested in family law for a long time, and still was after coming out of law school. This role resonated with me because it allowed me to be involved in family, law, and engaging with those issues. Since I'd always wanted to work in family law, I thought this would be a good way to connect with the community. It's nice to be involved in the hands-on, tangible work that we do here.
What do you do in your position?
As a family law advocate, I provide legal information and legal advice. We also provide other levels of legal support for individuals who are dealing with family law issues, like divorce, separation, child support, spousal support, or division of assets. For some clients, we draft documents and file applications or claims. For other clients, we go to court with them and support them in hearings, conferences, and mediations. We also do legal education and community outreach.
What do you like most about your role?
The law is interesting, and I really enjoy that part of it, but ultimately, I like working with people directly and being able to see the change we can affect. It's a nice position to be in that you feel like you're helping people work through one of the most traumatic things to go through in life. I like the feeling of helping parties work through their issue hopefully in a more amicable way that doesn't need to be adversarial.
What do you do for fun?
It depends on the season! I love to be outside hiking, snowshoeing, and I do tons of snowboarding in the winter. I also kayak quite a bit, as well as climbing and camping. Basically all the stuff that the Pacific Northwest is known for! Plus, you can't forget breweries and wineries, which are the Pacific outdoor essential.
Is there anything you'd like the community to know about the services NSCR has to offer?
I just want the community to know that we're here, we're open for business, and we have a wide range of services that can help. While we certainly help with legal issues, so many of our clients are dealing with more than just that. We also work with community partners to help clients get referrals to the resources that they need, whether it's child care, referrals to financial supports, counseling, or things like that. When clients come here, we're able to work with them much more holistically than at a regular law firm.
Can you share a story about the positive impact of your work?
When clients come in, they're typically at the maximum of what they can manage on their own. If we can help them become more independent within themselves, that is a big success. It's a success when clients leave feeling empowered, with a much better understanding of their rights, entitlements and obligations. I can tell that the client has an independence that they didn't have when they came in. To me, that is one of the best things that we can do.
Service Types: Law & Justice,